Recording the HMS Sirius. Photo by Western Australian Museum
HMS Sirius added to World Heritage list
Wreck discovered from a Mongol invasion fleet from 1281 CE, ships knows as "Kamikaze"
Another cannon recovered from the Queen Anne's Revenge (kuddos to NCDCR for keeping this project alive during tough economic times).
This season marks a
new collaboration
between the
ECU Maritime Studies Program
and NCDCR with several students becoming involved in excavation and conservation of the QAR (following in the footsteps of LK Schnitzer, ECU Maritime Studies Student, who has been an intern on the QAR project since August 2010). Nice commentary and guiding of the cannon, Josh Marano!
Students also found artifacts during dredging
(way to go Laurel Seaborn and Rob Minford!).
RMS Lusitania artifacts undergoing study: preliminary assesment by Dr. Ian Panter
Commencing Maritime Archaeology in the Gulf of Oman
Dhows and Hookers: A Shared Maritime Tradition?
Che'lu Inc. completes construction of a traditional Chamarro outrigger canoe (Guam)
Preserving early Maritime Industry in the Isle of Wight through a 100 year old Shipbuilding Crane. "

"We can't afford to just let it go to wrack and ruin and only save the castles and abbeys." -Dr. Andy Brown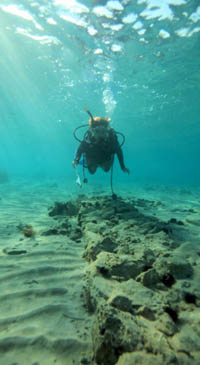 Pavlopetri (Greece) is the oldest submerged city in the world and is currently being studied and recreated digitally by Archaeologists.
"Maritime Memories" exhibit on display at the Lyme Regis Museum (United Kingdom) includes two lerret boats
Picton Maritime and Heritage Museum (New Zealand) plans to add a wing for Maritime Whaling Heritage
Grants awarded to Mystic Seaport
Maritime Museum in Vittiriosa, Malta gives students a "Culture Card"
National Maritime Museum in Amsterdam opens after renovation
POLITICS AND ETHICS
Treatment of Shipwrecks: Several old ethical debates summarized (treasure hunting vs. maritime archaeologists, in situ vs. recovery)
Maritime border dispute between Iran, Saudi Arabia, and Kuwait
Cherry Point, Washington shipping terminal preparing to export large amounts of coal, problems due to illegal logging
A SAFE HAVEN

Qingdao, China becoming a leading industrial port in the world, a center for marine research
Seattle Viaduct (dubbed Viadoom during construction) reopened
Continental Maritime of San Diego recognized for shipyard safety
Acre, Israel: Making Port-Town Archaeology Accessible to Public
Hundreds visit Cape May Lighthouse, New Jersey
Dr. Kathryn Bard presents on Punt: An Egyptian Harbor